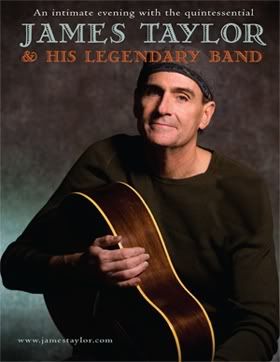 The James Taylor setlist?
Okay, well, I'll try.
Somewhere deep inside my brain that information is recorded.
Surely.
I'll give it a shot.
This particular JT concert was one of my favorites because he had such a nice blend of songs spanning his career. I heard for the first time in concert one of his songs that I absolutely love.
Jump Up Behind Me.
He told the story of what the song is about: his Dad came to rescue him in NYC when he was young, at a time when he really needed to be rescued. In a phone conversation with his father, his Dad said, "James, You don't sound too good." "I"m not too good, Dad." His Dad showed up 12 hours later in a rented station wagon to take him home. When he told that story, the audience erupted in appplause.
I'm giving you
a link
to that song on youtube because everyone needs to hear it. Seriously.
It's that good.
It's one of the reasons my horse, if I ever have one, will be named Dan.
The other reason is that my Grandfather's horse was named Dan.
He also did
Line 'Em Up
. That, along with
Jump Up Behind Me
, are from his Grammy-award winning CD from the late '90's Hourglass. Hourglass is how I discovered JT. It's a long story, I'll tell it some other day.
I know this: He opened with
Everyday.
And I know this: He encored with
Shower the People
and
Close Your Eyes
, two of my favorites. Ever.
The first half also included some JT songs that always take my mind to our NC Farm:
Carolina On My Mind
,
Country Road
, and
Walking Man.
Fabulous.
He also sang
Up On The Roof, How Sweet It Is To Be Loved By You
, and
Something in the Way She Moves.
I so loved it when he sang
Traveling Star,
a song that has these words in it:
She has a cat and a dog named Blue....
Yes, well, I just happen to have a cat and a named Blue. Just sayin'.
This is Blue.
(I didn't name him that btw; he was a rescue who came with the name.)
(Sweet, wild thing, my Blue.)
Awesome first half.
JT spent Intermission signing autographs up at the stage.
How do all of you who got to the floor do it if you didn't have floor seats? What are the magic words? Give them to me so I can use them next time. I'm dying to get his autograph. He is a HUGE part of the reason I want to learn to play guitar.
The second half. Hmmmm, let's see.
Copperline,
another song that takes me to our NC Farm.
Maybe that's one reason I enjoy JT so much, now that I think about it....it's the way his songs make you feel.
Don't Let Me Be Lonely Tonight.
Steamroller.
Mexico.
Fire and Rain.
Shed A Little Light,
which I also love, love, love.
Okay, that's all I can remember.
Someone help me fill in the holes.
What am I missing?