Red Velvet Cake, that's the recipe I promised to post. And I will.
But let's just think about this for a minute.
"Red Velvet."
When was the last time you saw
actual
red velvet? (Other than this past Christmas when you admired Santa at the mall.)
We just don't see velvet anymore, much less red. Why do you think that is? What happened to velvet?
Raise your hand if you remember the '70's and had a VELVET----a-hem, drum roll please-----BLAZER.
Yes, you Friends who didn't raise your hand, there was a time when we wore with pride, men and women and boys and girls, velvet blazers. (Jackets were called "blazers" back then.) Think Austin Powers. Or The Partridge Family. We sure were hip, weren't we?
(Wow.
This one
will surely make you smile. It does me. 'Course, I grew up in a small town in the south, so we wore solid color velvet blazers.)
I do have one thing that is Red Velvet.
My velvet bench.
Funny thing about this bench is that I've never been quite sure where to put it, or what to do with it. I really don't know why I bought it.
In the 20 years I've had it, it's been in every room of the house.
I've moved it to the foot of the bed, in front of the fireplace, aligning a long wall.
You name it.
And now it serves as a coffee table in my living room. Don't ask me why.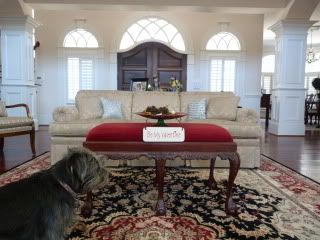 Come to think of it, I also have a dog whose fur feels like velvet.
Soft and cozy and warm.
It would
not
be the dog pictured above.
That is Strudel, my terrier, and her fur is....well,
not
velvety.
The velvety fur belongs to Blue, my orange dog.
I know, I know, it's hard to keep up with me.
Yes, I have an orange dog whose name is Blue. (He came with the name.)
Name: Blue. Color: Orange. Texture: Velvet.
You can just see the softness of his fur in those velvety ears, can't you?
Kiss-able.
Strudel? Well-----
Name: Strudel. Color: Black and Silver. Texture: Coarse.
Enough talk about velvet and the old days and dogs! Let's talk cake.
Red Velvet Cake with yummy cream cheese frosting is a wonderful way to "velvet-e-brate" or "velebrate" Valentine's Day.
So here it is. My famous Red Velvet Cake.
Well, not really "my" famous. This came to me through my sister, who got it from a college pal. I made it for the first time when I was in high school. That's when I wrote it on a 4"x6" index card.
This card cracks me up every time I make the cake. I like how the card is covered with old frosting and crusty batter. I'll never re-write it on a new, prettier, cleaner card. Never.
I laugh when I see the place where I added these words: "except sugar." I remember adding the dry ingredients together with the sugar. I mean, why wouldn't I add the sugar with the flour and salt and soda? Sugar is, of course, dry. I had to start all over when I read the next line. I never wanted to make that mistake again, so I added those words. ha.
The only change I've made throughout the years is to decrease the amount of red food coloring. I only use 1 oz. (rather than 2 oz.) these days.
So here it is:
Red Velvet Cake
2 1/2 cups all purpose flour
1 cup buttermilk
1 tsp. soda
1 tsp. salt
2 eggs
1 1/2 cup sugar
1 3/4 cup vegetable oil
1 tsp. vanilla
1 oz. red food coloring
1 tsp. vinegar
So let's get that cake together.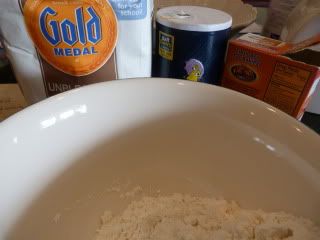 Combine your dry ingredients, EXCEPT FOR, well, SUGAR(!), in a bowl.
Mix your sugar, milk, eggs, and oil until creamy.
Add in the dry ingredients.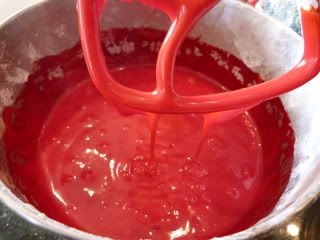 Add vanilla, food coloring, and vinegar.
Pour batter into greased and floured pans.
And bake in pre-heated 350 degree oven for about 30 minutes.
Cool.
Now let's make that yummy frosting.
Cream Cheese Frosting
8 oz. cream cheese, softened
1 stick butter, softened
1 box confectioner's sugar
1 tsp vanilla
Cream cream cheese and butter.
Slowly add sugar.
Add vanilla.
And frost that gorgeous, delicious cake.
Now this cake is so lovely, it makes me wish I had a better camera.
(And better talent to go with it.)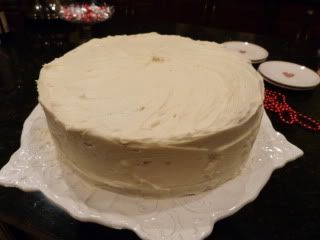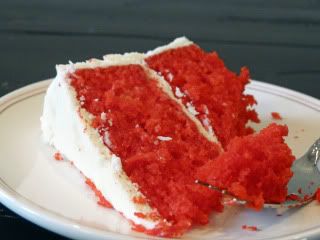 My side-kick the whole time I'm in the kitchen.
Little Oreo, dog number three.
Name: Oreo. Color: Black and White. Fur: Messy
"Please, please, please......just a little......never had Red Velvet before.....I'll love you forever......"
Beautiful and delicious Red Velvet Cake.....A Valentine's Day tradition.
They'll love you forever for it.