I always wondered about that term, "mud season."
I've never really known what it is.
Now I know.
On a small scale, of course.
But I do get it.
So
this
is mud season.
It is
when the snow melts and the ground is saturated and soggy and the dogs' paws are covered in mud and they run in the house and they jump on you who by the way was wearing your new winter white sweater that now has muddy paw prints and you yell and you grab the kitchen towel by the sink of all things to grab and notice it has a smiling snowman on it as you chase them so you can wipe their 12 paws before they jump on the sofa but they think you are playing a new kind of game so they run faster and then they all one by one jump up on the couch.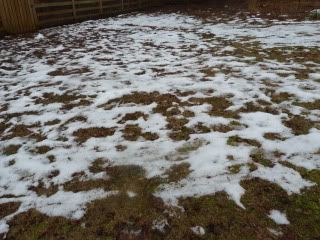 And also. Well, your special snowman Charlie is almost
not.
(Do you folks in the north feel this way when your snowmen melt? Sad?)
Well, now I get this mud season thing.
I liked the snow better.
WAY.