"Hand in hand, on the edge of the sand,
t
hey danced by the light of the moon..."
Edward Lear, not writing specifically about Hubs and me, but should have been
I thought today would be a very good day to introduce Jekyll Island, Georgia. Time-Line, here we come!
My very exciting time line of Jekyll Island, Georgia.
Backwards. yes, let's start with the Shrimp and Grits Festival, a few weeks from NOW.
Let's see.....
September 17-19, 2010
: The annual
Shrimp and Grits Festival
will take place and who will be there? Me, yes, me. I'll be running the races and eating the shrimp and relaxing on the beach. Ah...
Approximately 11 years ago:
I attended a judge's conference on a neighboring island, St. Simons Island. Hubs was with me and we decided to visit The Jekyll Club Hotel for a late lunch. We took a romantic bicycle ride on the Island later in the day and
danced by the light of the moon
before heading back to St. Simons.
Approximately 40 years ago, and many years thereafter:
My family camped at the Jekyll Island campground for a week's vacation. We stayed in our pop-up tent called a Camel Caravan.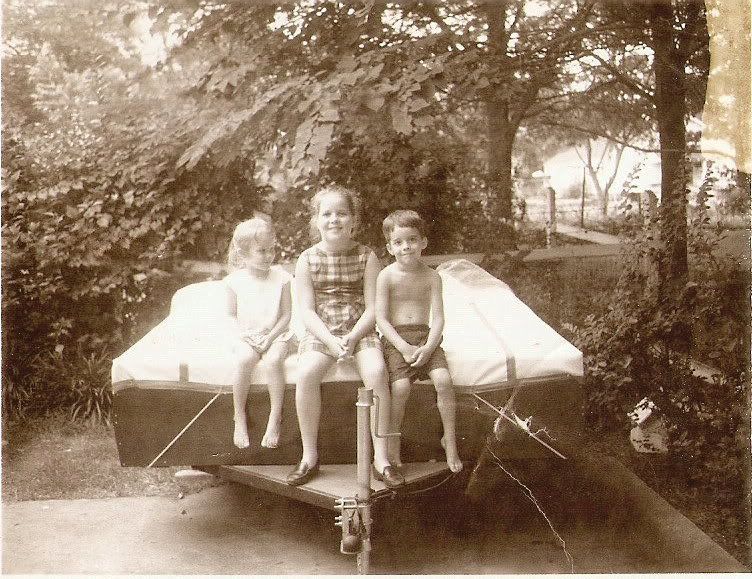 That's me on the left. The "Baby" of the group. I liked that designation then; I like that designation now.
I remember four things about the Jekyll of my childhood very well.
First, Jekyll Island's beach seemed huge to my little eyes.
Second, it was almost impossible to fall asleep in that hot, hot tent. I admire my parent's gusto for taking the three (whining? probably!) kids camping. I can't imagine.
Three, the surrounding marshes seemed scary and creepy to me. I had already developed my intense phobia of snakes, I guess.
Four, the gigantic trees draped with hanging moss seemed other worldly.
Now that I think about it, I should go back up to 2010 and add something huge. The upcoming trip to Jekyll Island will be the first time that my daughter will see the vastness of the ocean. Crazy, I know, but true. Her toe-sies have never sunk into the soft sand of an ocean beach. Geeze. Work, work. Always work. What is that saying? All work and no play....Never mind.
Hmmm, this is all about ME so far.
Okay, on different day, I'll do a REAL Jekyll Island Time-Line.
In the meantime, like Toby Keith sings, "Let's talk about me, let's talk about I, let's talk about number one...."

"Me." I'm excited about visiting some of the old historic sites on the island. Some of the old homes have been refurbished and are open to the public. And it'll be fun to take another bicycle ride around the island. There's a sea turtle rescue center. Just lots to see and do.
"I." Of course I'm also excited about having a pina colada by the pool, or a drink with lime in it. (This is where I'm trying to tie in the "lime" thing from the title of his post, Time-Lines and Lime-Times. Limes, so citrusy and refreshing, delicious at the beach. Wait! I thought of it!) Key Lime Coolers. There we go-----
Ding, ding, ding
. Lime Time, here we come!
"Number One." And I've got my eye on one of these.
I found this picture and the recipe
here
, on the Jekyll Island Club's Blog. Oh my!
(I'm such a hardly-ever-drink drinker, I don't even know what this 3 count and 2 count thing is....must find a bartender to ask!)
3 count Parrot Bay Coconut Rum 2 count Coffee Liquor
2 count Crème de Banana
½ oz ½ & ½ cream
Squirt of Banana Puree
Chocolate syrup drizzled around cup
Mmmm,mmmm,mmmm. Maybe even a scoop of vanilla ice cream in there.
I'll provide a review of this drink upon my return. For sure. Just for you.
And while I'm lying on the sand or by the pool, testing the merits of the Drunken Monkey just so that I can report back to you, I'll be listening to a little Buffet....Been too long since I heard Jimmy Buffet! I'd be hard pressed to pick out my favorite Buffet song, how about you?
Hey, that reminds me. I need to think about my beach playlist for my three runs that weekend in the races. Jimmy Buffet is a classic place to start....and the Beach Boys....and Bob Marley.....
And dancing. We'll be dancing, hand in hand, this time with daughter too, by the edge of the sand, under the light of the moon. Now there's a song I haven't thought of in forever.
"Dancing in the moonlight, everybody here is outta sight...."
Y'all old enough to remember that one? Hey, I think I'll add that to my playlist if itunes has it. Maybe that Toby Keith song I mentioned a minute ago too. That's been in my head since I typed the words to it.
Oh well! Let the day dreaming end. Gotta work now.
(All work and no play-----,
never mind.)
Making Life~Chasing Joy
Love y'all, Rebekah