Come and visit me at
The City Farmgirl Blog
at maryjanesfarm! I put up a new post there today.
Here's the recipe I promised you.
Delicious Baked Cheese Enchiladas
Ingredients
for the cheese filling
2 cups Monterrey or Colby jack cheese, shredded
1 cup cheddar cheese, shredded
1/2 cup sour cream
1 onion, chopped
4 green onions, chopped
1 TBSP fresh parsley (optional)
2 TBSP fresh cilantro (optional)
1/4 tsp salt
1/4 tsp pepper
for the enchilada sauce
15 oz. tomato sauce
2/3 cup water
1 TBSP chili powder (more if you want spicy)
1/2 tsp oregano
1/2 tsp ground cumin
1 garlic clove, minced
and you'll also need
8 flour tortillas
1/4 cup cheddar cheese, shredded
Directions
Lightly oil a large baking dish. Preheat oven to 350 degrees.
Mix the cheeses together with the sour cream, chopped onions, parsley and cilantro (if using), salt and pepper.
Combine tomato sauce, water, chili powder, oregano, cumin, garlic and heat to boiling, stirring occasionally. Reduce hat and simmer uncovered for 5 minutes. Then, pour in a 9 inch pie pan.
Dip each tortilla into the sauce to coat both sides.
Spoon 1/4 cup or so of the cheese mixture onto each tortilla and roll it around the filling.
Place in a oiled baking pan, seam-side down. Pour remaining sauce over the enchiladas.
Top with 1/4 cup cheddar cheese and bake uncovered for about 20 minutes.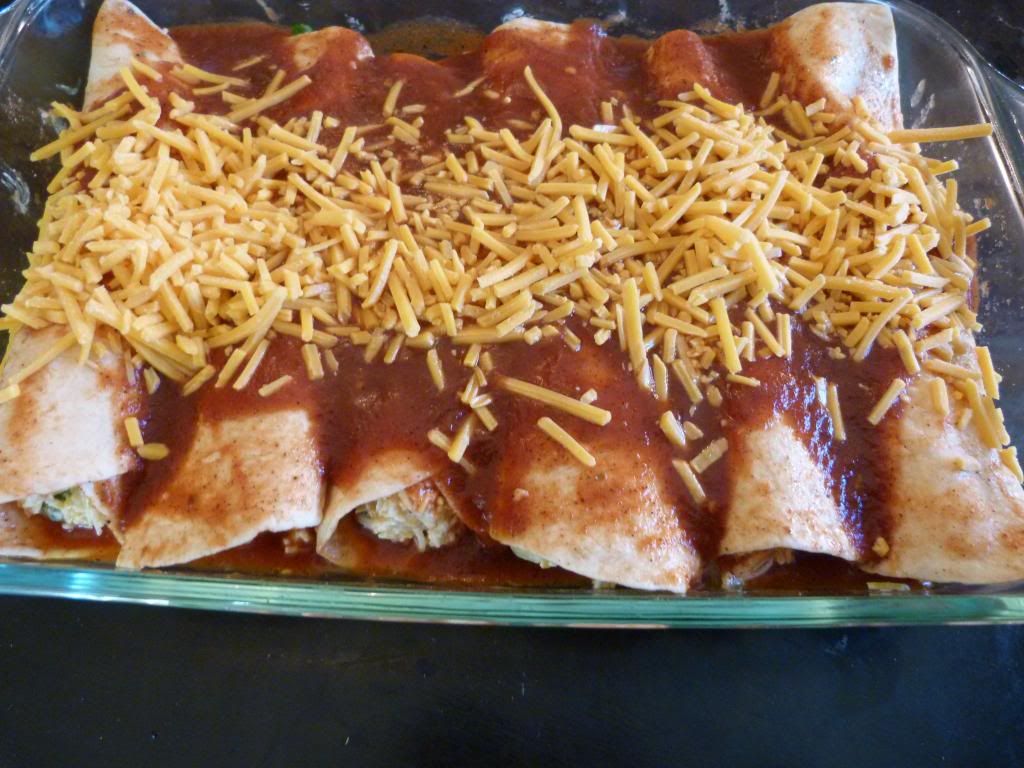 Oh seriously. MY STARS. The best ever. I've made them a million times and I always mean to take a photo of them baked and ready to eat on a pretty plate, but it just never happens. I always mean to. But. They are too good. I put them on a plate and can't control myself. I eat them while they're hot. And then I forget about a photo. Just close your eyes and imagine the most beautiful cheese enchilada you've ever seen.